Hi lunch packers! The kids have about a million days off school this month (actually six, but it feels like a million), and three of those days happened in the last two weeks. For that reason, I decided to roll two partial weeks of lunches into one big lunch post today. Read on to see what my boys have been eating:
This post contains affiliate links.
Monday
Two Monday's ago, Wyatt rocked leftover ribs in his Laptop Lunches box. Lucky kid! We bought a new car (our first ever!!) that Sunday afternoon and we stopped for a celebratory dinner on the way home. Wyatt filled up on bread, so he had lots of nice ribs leftover to eat in his lunch the next day. He also took gimMe seaweed snacks, strawberries and a dinner roll.  I was very excited to discover that the seaweed snacks fit perfectly in the Laptop Lunches box when you take out one of inner containers.
Augie took a lunch in our Yumbox Original: strawberries, mini bell peppers, hummus, a roll, cucumbers and a couple of meatballs. Augie has been missing the cute stuff in his snacks lately so even though we were running late, I took an extra minute to add in a robot ring for decoration and I also stamped a quick smiley face in a cucumber slice with a cutter.
Tuesday
The kids were off school for parent-teacher conferences.
Wednesday
The kids both had leftovers in their lunch on Wednesday. Wyatt had his leftover goulash in our LunchBots thermal jar, along with some popcorn and apples. I also packed him a Lego fork  for his pasta.
Augie's pasta was packed in our Thermos food jar
and he also had a LunchBots Trio with popcorn, cucumbers and apples.
If you are wondering:
Yes, we eat pasta with meat sauce every single week.
Yes, my kindergartner eats significantly more at lunch than my 5th grader does.
Thursday
We still had pasta left on Thursday, so Wyatt had it again! He also got side cars with rice crackers and orange slices.
It was a snack only day for Augie, so he just had the oranges and crackers packed up in little car containers.
Friday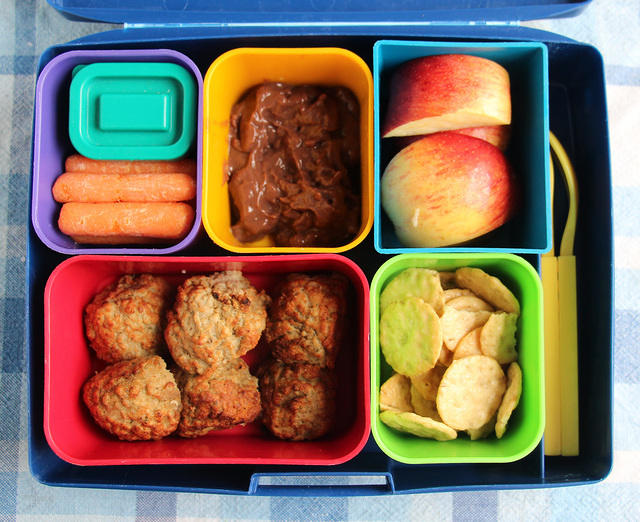 Wyatt closed out the week with carrots and bean dip, chocolate pudding, apple chunks, rice crackers and turkey meatballs.
I don't know why it took me so dang long, but I finally figured out that you can replace one of the larger inner containers in a Laptop Lunches bento box with two of the smaller ones. Yep! I've been using these boxes for SIX YEARS and I just now got this!
Augie had a buggy lunch: orange slices with bee and ladybug picks, rice crackers, turkey meatballs with a giant ant cupcake topper (there's silicone sushi grass behind them too), snap peas with another ladybug pick and a few yogurt raisins.
Let's dig into last week's lunches now!
Monday and Tuesday
The kids were off school for two days for Veteran's Day, so no lunches.
Wednesday
On Wednesday I broke out our new Fit and Fresh
lunch boxes and packed the kids identical lunches. This NEVER happens, so I think it's noteworthy. They had: ham and gouda sandwiches in a pita pocket, tortilla chips, carrots, bell pepper strips, grapes and orange slices.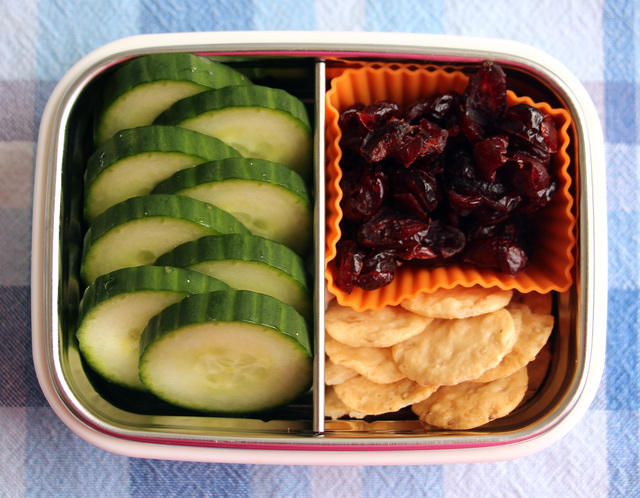 I also packed Augie a snack in our Steeltainer snack-size box
: cucumber slices, dried cranberries and rice crackers.
Thursday
Wyatt had school lunch.
Augie had cucumbers, hummus and cranberry-pumpkin crisps for his snack.
Friday
Finally, this was Wyatt's lunch last Friday: carrots, dried cranberries, salsa (to dip the carrots in), grapes, cheese popcorn and two little sunbutter and jelly sandwiches that I decorated to look like "mustache men" with cheese. Wyatt and his friends at school have an inside joke about mustache men so he actually asked me to make these guys when he saw the new cutters that the folks at CuteZCute sent me.
I packed Augie a lunch in the PlanetBox: crackers, snap peas, grapes and a sunbutter and jelly sandwich with sealed edges. (See how to do that here.) That sandwich calls out for some kind of decoration, doesn't it?? I had grand plans, but then I ran out of time and we had to rush off to school.
| | |
| --- | --- |
| | Are you looking for more ideas for packed lunches! My book, Everyday Bento: 50 Cute and Yummy Lunches to Go is packed with ideas for fun, delicious lunches. With 50 brand new bento box lunches and step-by-step photo tutorials showing how to make them it will provide you with loads of inspiration when it's time to pack lunch. Order today from Amazon, Barnes & Noble and Powell's. |