I hope everyone had a fun and happy Halloween last week, filled with lots of candy and a healthy lunch to help balance out all that candy! Here's what the boys had last week:
This post contains affiliate links.
Monday
Augie had a small piece of pumpkin pie with a few bone sprinkles
added to the top to make it Halloween-y, meatballs with Halloween picks
, apple chunks and clementines with leaf picks to make them look like little pumpkins. This was all packed in our PlanetBox Rover.
For snack, he had sugar snap peas, tomatoes on a bat pick and pumpkin-cranberry crackers.
Wyatt was home sick, so I didn't pack him a lunch and Augie ended up coming home from school because he didn't feel good either. We were all a bunch of sickies.
Tuesday
On Tuesday, I failed to take photos, but they would have been boring anyway so it was OK. Wyatt had pasta in a thermos (that's it!) and Augie had an applesauce pouch and a pack of seaweed snacks. I was sick and I kept things as easy as possible so I could go back to bed.
Wednesday
We were all feeling better on Wednesday, so I was able to put a little more effort into the boys' lunches. They each had grapes, veggies (carrots and tomatoes for Wyatt, carrots and cukes for Augie), ham sandwiches on dinner rolls, dip for the veggies and white cheddar popcorn. These were packed in our new Fit & Fresh bento box kits.
Thursday
On Thursday, Wyatt had gimMe seaweed snacks, grapes, carrots and dip and a steak and cheddar sandwich. This was packed in a Laptop Lunches box.
Augie had cucumber slices, hummus and grapes for his snack.
Friday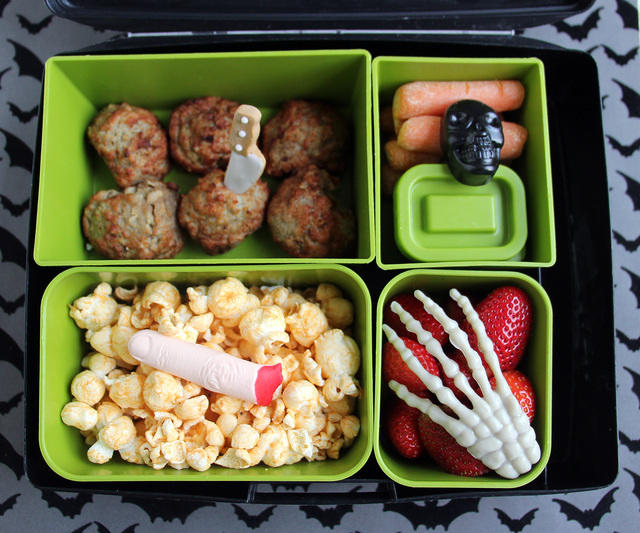 Halloween! The big day!
And I was feeling sick again… Whomp, whomp!
I kept the kids' lunches as simple as I could but I still tried to make them fun. Wyatt had meatballs with a cookie knife stuck in one (no — he doesn't care about me mixing a cookie and a meatball), carrots and dip, strawberries with a skeleton hand and popcorn with a candy finger.
Augie had strawberries and cukes with ghost picks, popcorn with some Halloween sprinkles on top and sunbutter and jelly sandwiches cut and stamped with skull and bone cutters. I also added some bone sprinkles for a little extra fun. This was packed in our PlanetBox Rover.
What did you pack for Halloween lunch? Leave a photo and/or a link in the comments down below!
| | |
| --- | --- |
| | Are you looking for more ideas for packed lunches! My book, Everyday Bento: 50 Cute and Yummy Lunches to Go is packed with ideas for fun, delicious lunches. With 50 brand new bento box lunches and step-by-step photo tutorials showing how to make them it will provide you with loads of inspiration when it's time to pack lunch. Order today from Amazon, Barnes & Noble and Powell's. |