Oh my gouache! I've recently been messing around with a new-to-me material – gouache. If you don't know — and I didn't a few weeks ago — gouache is very similar to watercolor but it is more heavily pigmented. This gives it an opaque, matte finish. (And if you're not sure, it's pronounced "gwash".)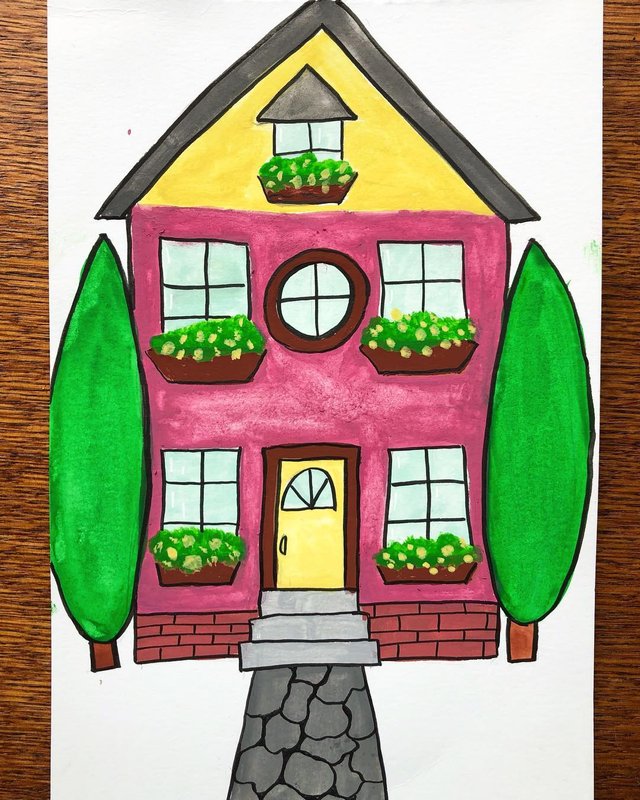 This house is the first thing I've tried painting with it, besides just goofing around with swatches to get a feel for the paint. I'm actually not very happy with the piece. I hate that pink color – I wanted something much lighter. And I hate the one dimensional nature of the colors. Frankly, I think it all looks pretty childish. But that's because I'm in what Ira Glass calls "The Gap" – the space between what you'd like to be able to do and what you're capable of doing. I had a picture in my mind of what I wanted to make and this DOES NOT match. But I have no formal painting education, so it's what I expected. Pretty much everything I know about painting I've learned from a handful of YouTube videos. I haven't put in the hours or experimentation that I need to put into painting to get experiential skills. And this medium is brand new to me. I find gouache much more difficult to work with than watercolor. It's hard to get the paint to the consistency I want and my color mixing is all over the map.
What do I like about this painting?
I love the flowers in the boxes.
I like the shape of the house.
I like the cobbled path out front.
I like that I tried really hard and I learned a lot while I was making it.
Are you struggling to learn something new? Are you in the gap right now? Tell me about it so I don't feel alone.